FAQ
I currently have another parking operator. How do I switch to AirPark?
If your co-op wants to switch parking operators to AirPark, it is important to check your current agreement with your current operator. Make sure you have the ability to terminate the agreement before starting to use AirPark. We at AirPark can help you initiate a new agreement and provide you with more information about our services. Contact us at AirPark if you need help switching parking operators.
I want to use AirPark for my co-op! How do I do that?
You can register your co-op in the AirPark portal and start using AirPark right away. If you need help and guidance, feel free to contact us at AirPark and we will be happy to help!
Registration on the AirPark portal is free and there is no monthly fee. However, AirPark charges a fee of 5% for parking permits issued and invoiced by AirPark. When a parking space is rented out to someone else, AirPark charges a fee of 15% of the rent. If you want to use the service for a control fee, AirPark charges 50% of the revenue. There are no other fees or costs for using AirPark.
Do I need to set up new signs?
If you have a parking operator today, there is probably the road signs you need for your parking. What may need to be changed is the phone number associated with the parking operator. If you don't have any road signs - or need to change the ones you have - you can contact us at AirPark and we will help you!
More questions?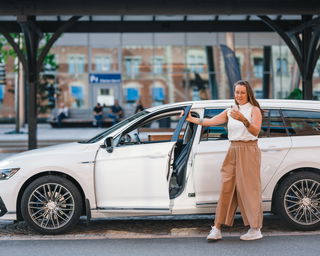 If you want to get started with AirPark, feel free to contact us! We look forward to helping you get a good start with our service. Get in touch and we'll tell you more and help you get started.